With three out of four, Ian Nepomniachtchi is half a point ahead of Fabiano Caruana who has 2.5 points. Jan-Krzysztof Duda, Richard Rapport and Hikaru Nakamura are all on fifty percent. Following his first defeat in the tournament, Alireza Firouzja is at the bottom of the board, in the company of Ding Liren and Teimour Radjabov, with all three players on 1.5 points.

Ian Nepomniachtchi made another big jump in the Candidates having defeated the 19-year-old Frenchman Alireza Firouzja in a sharp and gripping game. This duel was the tale of the two kings in which only one would survive. In the Najdorf variation of the Sicilian, Firouzja - playing as Black - opted for a sharp double-edged line. He blitzed all his moves in the opening, but once he went out of his preparation, Firouzja was struggling with finding the right plan. The complicated position on the board - where opposite castled kings had their defence lines severely probed - required meticulous calculation. Here Firouzja fell short of the task: his sacrifice of material with the hope of a vicious attack on the white king came to nothing, while Nepomniachtchi defended well, launching a devastating attack and then serving a tactical blow to his opponent, forcing him to surrender facing imminent checkmate.

With two victories in the first four rounds and having demonstrated a confident and high level of play in all of the games, Nepomniachtchi is gradually angling himself for the repeat of the 2020/21 Candidates, when he took first place. As for Firouzja - he had a tough pairing in the first four rounds, having to lead black pieces in three of the four games, but in each of them he played ambitiously and creatively, and both are essential for success, whenever it may come.



World No. 2 Ding Liren's hopes of making his first breakthrough in the tournament didn't come to fruition. Despite achieving a slightly better position in the opening as white against Fabiano Caruana in the Ragozin and winning a pawn he did not manage to convert. Ding created a free runner on the a-file but Caruana was there in time to stop it. He then exchanged his queenside pawns to gain an extra pawn on the kingside but ended up in a drawish rook endgame. Still, Ding kept on pushing, but Caruana's confidence in holding the draw never faltered.
Caruana is half a point behind the leader Nepomniachtchi and ahead of everyone else. Ding is still at the bottom - hoping for a well-deserved break.

The game between Richard Rapport and Hikaru Nakamura was well played by both opponents but ended in a draw. In the Berlin defence, the two quickly transpired to an even endgame with knights and rooks. Both were familiar with the pawn structure and the nature of the position that emerged. Still - as it seems to be the tradition of today's top-level chess players - they persisted to play a trialling endgame, before finally calling it a draw once just the two kings and knights were left on the board. Both players are on a solid fifty percent.



In another Berlin defence, Jan-Krzysztof Duda drew with Teimour Radjabov. A slightly more complicated position developed following the opening than in the Rapport-Nakamura game. White had slightly more initiative but was possibly a bit too slow in building it up. Once the queens and the heavy pieces were exchanged, the two moved to an even rook endgame which ended in a draw after 41 moves.
Duda is on fifty percent with four draws, Radjabov is half a point behind, having suffered a loss in the second round. While the question for Duda is whether he will manage to keep the high level of play he has shown so far, the challenge for Radjabov is to demonstrate if he can do more than just defend and find a way to a draw.


Here follows a closer look at the games from round four of the Candidates.
Richard Rapport vs Hikaru Nakamura: Dull and long

Among all the candidates, Rapport and Nakamura are the two who are more renowned for their creativity than detailed opening preparation. Both have qualified for the Candidates via the same event: the Grand Prix, where Nakamura was first and Rapport came in second. This order is also confirmed with their head-to-head score: three victories, two draws and zero defeats, Nakamura – at least statistically – was the favourite.

The clash of the two creative players did not produce much novelty or innovation on the board. In a well-known line of the Berlin, Nakamura was pushing his kingside pawns – h6-g5-f6 (introducing a novelty on move nine along the way) - in a similar fashion as he did against Caruana, but there was one difference: he didn't castle kingside, which in the above-mentioned game opened the path to his demise.



This position was followed by a quick exchange of several minor pieces in the centre, which put both players on track for an endgame with a knight and a rook each, where White was minimally better, but it was even overall.

It was time for Rapport and Nakamura to show that their creativity can flourish when it comes to calculating long and tedious endgame lines, but it was virtually impossible in an equal position. However, the opponents still tried.

Nakamura advanced his pawns on the kingside but Rapport wasn't waiting: he sent his knight to the queenside hunting for Black's pawns. White emerged a pawn up but Nakamura's king, knight and rook were more active and soon Black restored material equality. The opponents ended up in a dead-even position, eliminated all the pawns and called it a day after 44 moves.
A strong and stable performance by both players who now have two points out of four games.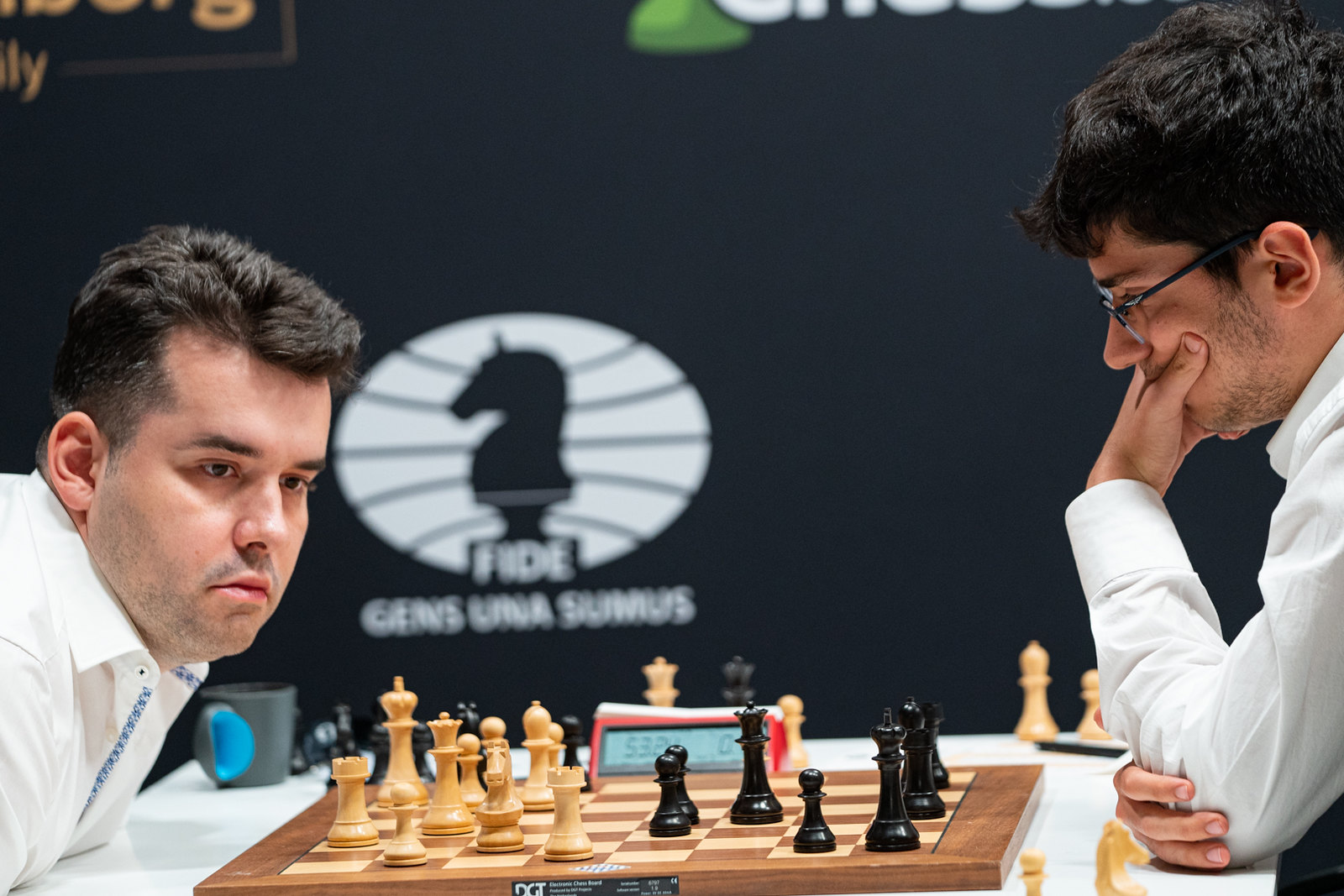 Ian Nepomniachtchi vs Alireza Firouzja: A tale of two kings

This game brought excitement even before it started. It was a duel between two very sharp players who both haven't played that much since the start of the year. At the time when Nepomniachtchi was packing his bags for Dubai to meet Carlsen in the Match in November last year, Firouzja had just won the Grand Swiss tournament in Riga which bought him the ticket for the Candidates.

The two have not played each other much before either – each has a victory and one draw between them. However, in online encounters, Nepomniachtchi has a much better head-to-head record than Firouzja.

True to the expectations of the chess pundits, the two went for a very sharp opening: the Najdorf variation of the Sicilian. Following opposite side castles, both Nepo and Firouzja launched attacks on each other's king fortress.



Firouzja opted for a rare move 15…Bc4. White could have responded with 16.Ng3, played in a game of two low-rated opponents back in 2013, which could have offered him more chances, but instead opted for the more standard 16.Kb1.

By move 18, White finally made the f6 advance, giving away a pawn at the gain of wrecking the black's king fortress and hoping for a devastating attack.



Sensing it is a critical moment, Firouzja took his time assessing his options. The recently turned 19-year-old Frenchman spent an hour in total for the next two moves, while Nepomniachtchi was much faster.

Firouzja proceeded to advance his pawn to a3, trying to provoke weak squares around the white monarch, but Nepomniachtchi was responding logically and countered Black's advances with his own measures.

In the online commentary of the game, Judit Polgar noted that Firouzja "seemed to know what he was doing but in the last few moves it seems struggling which direction to take".

After moving his king to h8, Firouzja made a move after which White gained a huge advantage.



In this position, Firouzja put his knight on d6, blocking his bishop on e7 from defending the b4 pawn. While this move is in the spirit of the line, a sharp position like this one requires a meticulous calculation to the finest detail and this is where Firouzja fell short of his capabilities.

Nepomniachtchi did not hesitate – he took the pawn quickly. After 24…Rc8 the computer was saying White was completely winning. Black needed to have some strong compensation for the loss of material but it was simply not there.

Nepomniachtchi regrouped his pieces, pushed d-pawn and forced black to retreat his black-squared bishop which would have played an important role in any opening of the a1-h8 diagonal.

The position was still very sharp but Nepomniachtchi was very precise in calculating the tactics.
Firouzja's attempts to complicate matters only precipitated his defeat.



This is the moment before the curtain was about to fall. Firouzja just played a desperate 35…f5, short on time, looking for a lucky break. But White gave no quarter: Nepo did not think long before playing 36.Rxh7+, winning immediately. After two more moves, Black resigned.
Firouzja overestimated his chances of playing sharply with Black and lost.


Jan-Krzysztof Duda vs Teimour Radjabov: A fair outcome

The rising star from Poland Jan-Krzysztof Duda (24) was up against the oldest player of the tournament, Teimour Radjabov (35). Their only classical game was in 2019 in the Tata Steel Masters and it ended in a draw after 30 moves. Their other encounters, mostly online, are in the rapid and there Radjabov leads Duda four to one with three draws. In this game, both players were looking for their first victory in the tournament.



In another Berlin with 4.d3, Duda opted to play 8.Bg5 (instead of taking on c6 as in the encounter between Rapport and Nakamura) and steered the position into uncharted waters. Like in the previous games, Radjabov was again spending a lot of time on the opening moves.
On move 11 Radjabov allowed White to ruin his pawn structure on the kingside - it was the first critical moment of the game.



In this position, Duda opted for 13.Bxd7 trading his light-squared bishop, while retreating to c4 with pressure in the centre seemed to offer slightly better chances for White.

Following Radjabov's castle on the queenside, the two announced plans of organising an attack on each other's fortress but these aggressive intentions did not materialize as Duda preferred a somewhat sluggish 17.Qf3 to 17.a4.



Radjabov's reaction was excellent - he temporarily sacrificed a pawn with 17…f5 and solved all his problems. On move 23 the opponents treated queens, moving into an even rook endgame.
Following further simplifications, the two created pawn majorities on opposite flanks but it was even. After a threefold repetition, a draw was agreed upon on move 41.


Ding Liren vs Fabiano Caruana: The clash of titans

This was one of the most anticipated matchups in the round. The former challenger for the world title, Fabiano Caruana, was up against the World No. 2 and highest-rated player in the Candidates, Ding Liren. Ding leads Caruana with 5:2, with six draws. A score nobody in the tournament can boast against Caruana.

This was an important game for both players but it seemed to be more crucial for Ding than Caruana. Ding had a worse start – with things not going his way, a devastating defeat in the first round and missed chances, it was time for him to break the spell and rise up.

In the Ragozin defence, the two were following a recent game played by Wei Yi - Pentala Harikrishna, won by the Chinese GM, but the American was first to deviate with 9…Nc4, as recommended by the computer.

After some pawn exchanges on the queenside and trading the light-squared bishops, White emerged slightly better and managed to pose some problems for Black.



In this position, after 15 minutes of thinking, Caruana opted to give up a pawn on the queenside 17…Rc8 to activate his pieces and create counterplay but did not find the best way to do so (17…Qd7).

Ding accepted the challenge and soon created a free runner on the a-file. It seemed that White now had greater chances to play for a victory. Caruana realised this. His ambitions quickly dwindled as he had to force an exchange of queens and play for a draw.



The position transpired to a rook endgame where White had two passers on a and c-files, while Black had a passed pawn on c3, but it was even as Black's king was just in time to reach the queenside.

After mutual elimination of the queenside pawns, Ding tried his chances on the right flank, by collecting the black pawn on h7. However, Caruana had no problem holding his ground in a theoretical four-vs-three pawn on one wing rook endgame.



The fifth round of the Candidates starts on Wednesday the 22nd of June at 3 PM CEST at the Palacio de Santona in Madrid.

The pairings of the fifth round are as follows:
Fabiano Caruana vs Richard Rapport
Teimour Radjabov vs Ding Liren
Alireza Firouzja vs Jan-Krzysztof Duda
Hikaru Nakamura vs Ian Nepomniachtchi